1k1day, $1k1day or $1k in One Day. How ever you write it, it just sounds like a pipedream.  Is it actually possible?
When I first decided that I wanted to change my life and pursue a new dream, I looked around for some ideas about what I could do.  I was sick of the 9-5 race and I wanted to do something that I actually felt inspired to do that could make a difference rather than make big companies even richer.
I came across Chalene Johnson on Instagram which led me to Periscope – a platform I had never heard of before.  On Periscope, I found Nicole Walters and $1k in one day.  It ended up being the first course I took to start this journey.
Who is Nicole and what is 1k1day?
Nicole is an Income Strategist.  What does that mean?  She finds multiple ways for you to earn "coin" as she likes to call it.  Everyone talks about having multiple streams of income.  Nicole actually shows you how to do it.  Nicole previously worked in the Corporate world doing this very work for large corporations.  Now she helps people like you and me, to do the same.  Like many of us, her ways of finding other income streams were out of necessity.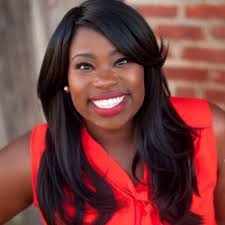 As someone taking their very first steps, she was a great find.
I do, however, recommend that you have at least an IDEA of what you want your business to look like.  What you want to do.  The course is very straight forward and you can easily do it as a beginner but from experience, I found it is much better to at least know the direction you want to go.
I'll be upfront here.  I haven't made $1k in one day.  Or anything like it.  I did start from the very beginning with no idea about what I wanted my business to be so I have been much, much slower going about things.  There have been many in my Cycle 3 group who have hit that mark, whose businesses have grown substantially.
What you learn
What you learn – how to set up several streams where you can earn income and most importantly how you can capture those earnings.  She is full of ideas about earning potentials and the ideas don't stop once the class is done.
So why do I recommend it?
New Ideas
Nicole spots ideas you would never have considered before.  If you've looked into online businesses you will have seen a lot about producing informational products, courses and similar items.  Nicole does not limit the possibilities to just these tried and true methods.  She is always looking for innovative ways that you can earn passive income and anytime she finds them, she passes them on straight away.  She also keeps the course update.  If she finds a better way, she makes sure we know about it.
The other thing is she knows you are starting out and therefore you have no money to spend on expensive systems.  She encourages you to pay for only things that will directly result in more money for you and go free when you can.  Most systems you can start out free, Nicole also provides guidance on when to migrate to paid systems in order to increase your business.
She wants you to make money, that's her Jam.
Access to Nicole herself
Nicole is not a hands-off course provider and mentor.  Just the opposite.  While she doesn't do one-on-one mentoring anymore (she's too busy), she loves to get into your business.  She is active on the boards, she is honest about her opinions. She REALLY wants you to succeed and that comes across.  Nicole is as excited for one of her students to have a win as she is for her own success.  She pushes you to DO THE WORK because that's the only way you will succeed.  I have found this to be absolutely true.
Oh, and did I mention she is hilarious also?  She cracks us up on a regular basis.  You see Nicole as she really is.  She keeps it real, people.
Community
The community is hands down one of the best things about the course – and frankly something I would pay for alone – is the community she has built.  It is an active one.  All kinds of wins are celebrated on a daily basis.  Did your first live broadcast?  The group cheers for you – if you tell them you'll be live, they'll show up to support you.  Got your first income?  Even if it's $1, everyone is excited.  Nicole's enthusiastic and supportive nature spills over into the group and they rally around.
If someone discovers a new tool or program or has an idea, they share it.  Need some feedback on what you are producing? They'll give it.  What they won't let you do is come up with a bunch of excuses why you can't do things.   I'm a member of several groups and it is easily my favourite.
Recently, Nicole implemented a Monthly Team Captain, where students who have been prominent in the group, who have done the work, get to lead the group for a month.  They can create challenges for everyone to participate in, provide encouragement or whatever they want to do to help the group.  Not only has it been fun, it has been useful and that makes the difference.
Oh, and we are known as Richfriends.  So if you see people referring to Richfriends, you know these are Nicole's people. Because everyone needs to have Richfriends in life.
So why this post?
The course is so popular now that it is by invitation.  So if it sounds like it's for you, you need to get on the list to get that invitation here:  1k1day.com  It only opens twice a year so get in quick as the course always sells out very quickly – within a day or two of opening up and it's opening very soon.  I don't know when or even if it will be available again.
I'm not an affiliate, I am ONLY recommending it because I think it's valuable.  I've done other courses that you will never hear about from me, I only recommend the things I like. Nicole can be found regularly on Periscope where she is also known as Scoprah or you can find her on Facebook and follow the great business advice and the general hilarity of her life.  Check her out.  Hopefully, we'll see you in the 1k1day group!  And tell Nicole I sent you.
Got questions?  Ask below!
Never miss a Post
Subscribe to get first access to our best stuff